A day late here on the blog, however I did post on instagram last night our 2013 Christmas Card.
I love this time of year and especially LOVE getting beautiful cards in the mail from friends and family!
I am linking up to walk with me by faith annual Christmas Card Carousel.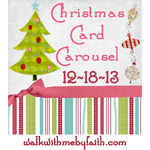 Merry Christmas to All of my blogging and social media friends!
Wish I could send you all of piece of snail mail, but since I can't here is a virtual Merry Christmas!